Australian Guitar Magazine Issue 54 - July 2006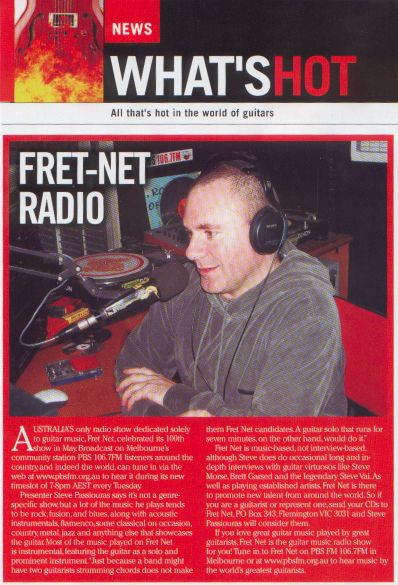 Australia's only radio show dedicated solely to guitar music, Fret Net, celebrated its 100th show in May. Broadcast on Melbourne's community station PBS 106.7FM listeners around the country, and indeed the world, can tune in via the web at www.pbsfm.org.au to hear it during its new timeslot of 7-8pm AEST every Tuesday.
Presenter Steve Passiouras says it's not a genre-specific show, but a lot of the music he plays tends to be rock, fusion, and blues, along with acoustic instrumentals, flamenco, some classical on occasion, country, metal, jazz and anything else that showcases the guitar. Most of the music played on Fret Net is instrumental, featuring the guitar as a solo and prominent instrument. "Just because a band might have two guitarists strumming chords does not make them Fret Net candidates. A guitar solo that runs for seven minutes, on the other hand, would do it."
Fret Net is music-based, not interview-based, altough Steve does do occasional long and in-depth interviews with guitar virtuosos like Steve Morse, Brett Garsed, and the legendary Steve Vai. As well as playing established artists, Fret Net is there to promote new talent from around the world. So if you are a guitarist or represent one, send your CDs to Fret Net, PO Box 343 Flemington VIC 3031 and Steve Passiouras will consider them.
If you love great guitar music played by great guitarists, Fret Net is the guitar music radio show for you! Tune in to Fret Net on PBS 106.7FM in Melbourne or at www.pbsfm.org.au to hear music by the world's greatest guitarists.